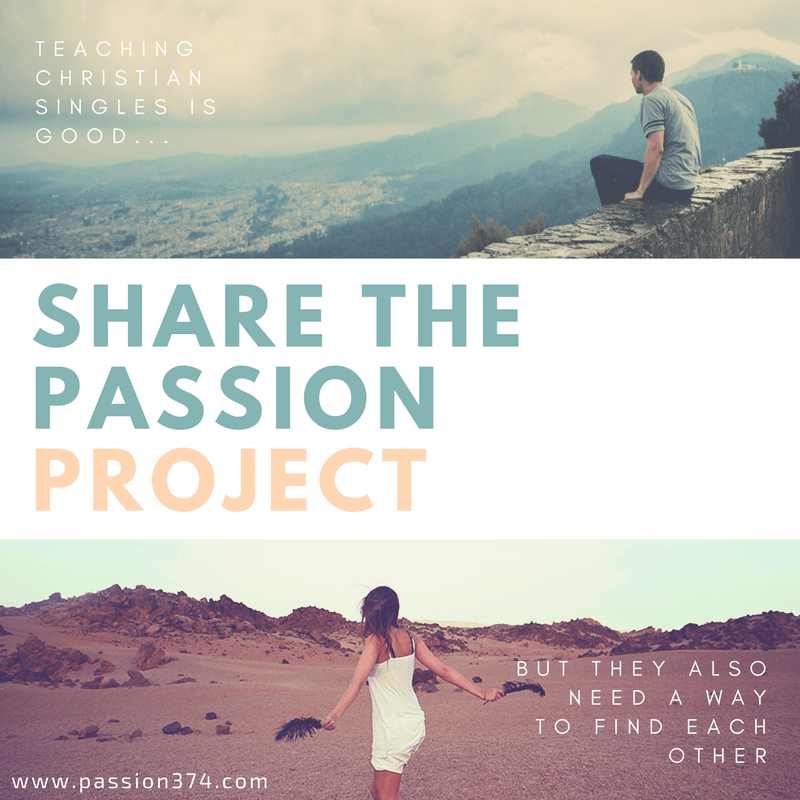 Facts
According to several studies and surveys, only 10% of Christian singles find their life partner in their local church. The Christian singles that cannot find their soul mate in their local church often fall in love with non-Christians, or they leave their church when their desire to marry is greater than their desire to serve God. Other singles turn to dating websites but are embarrassed, so they hide, which leads them into a dangerous state of isolation.
Some large churches offer activities for their singles members, with varying degrees of success.- Often it's the same twenty people participating, which is not very attractive to other singles. In smaller churches, such a service is usually unthinkable.
The purpose of Passion374
What if a Christian ministry, independent of all churches, allowed singles to meet in a healthy environment? This is what Passion374 offers to do.
Passion374 has no pastoral interest, we don't want to start another church. In the contrary, we strongly encourage participants to serve the Lord with passion in their local church.
Passion374 is not a dating agency. We organize activities to help Christian singles to meet and show them that there are other Christians in the same situation. They don't need to go in the "world" to find their life partner.
We regularly hold workshops and conferences to encourage singles to become Christians that are on fire for God. Someone's relationship with God is more important than their social status.
Every week, we publish articles to encourage Christian singles in different areas of their lives on our blog www.passion374.com. By visiting our website, you will also be able to see our values and positions on various issues.
Share your Passion
Teaching Christian singles is very important, but singles also need to find each other.
Passion374 is launching "Share your passion", a simple project:
Each participating church will appoint one or two members to represent their church.
Passion374 will meet with these representatives to establish a schedule of activities for Christian singles.
The activities will then be announced on our website and Facebook page, and these representatives will also promote the events in their local church.
What is required to be representative:
Be appointed by their pastor (have a good reputation);
Be available to attend a meeting once every 3 months;
Have Christian singles to heart;
Communication skills to organize and promote events.
What do you think? Do you want to "share your passion" for Christ with other Christian singles? Do you think a member of your church would be interested in volunteering to serve singles in your church this way? This is a project that meets a need, without requiring additional work from the pastor.
Above all, we do this without asking the churches to spend anything extra! The transaction costs of Passion374 will be borne by voluntary donations collected during our conferences or workshops.
Do you have questions?
If this project interests you, but you still have questions, it will be a pleasure to answer you by phone (514-316-8544) or email (info@passion374.com).